REDCLIFFE RIVERSIDE PATH
Information Boards
One of Wareham's most popular riverside walks, until recently nothing but a muddy track, was completely redeveloped in early 2013 by the Trust and is already proving a great success in creating a better and safer route between the two communities of Wareham and Ridge, and also a greatly enhanced stretch of the ever popular Purbeck Way.
Since then the enjoyment of the path has been added to by the installation, by the Trust, of three information boards.
Walking from Wareham towards Ridge the first board, entitled 'A Walk on the Wildside', tells the story of the wildlife that you might encounter along the river and was produced in partnership with Dorset Wildlife Trust.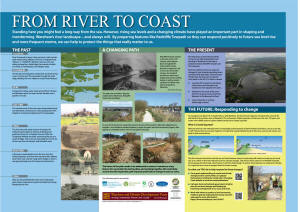 The second board, entitled 'From River to Coast' illustrates the changing scene around you, 'the past, the present, the future' caused by rises in sea levels, and what is being done by man to try and hold back the water. This board was produced in partnership with LiCCo (Living with a Changing Coast), and linked to the Environment Agency.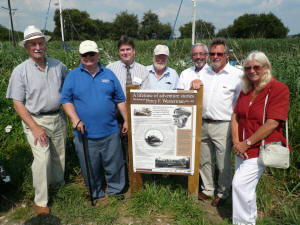 The third board, produced in partnership with The Westerman Yarns, is devoted to the memory of local author Percy F. Westerman 1876-1959, and marks the position where The Barge, his houseboat home, was moored and where he wrote his numerous 'ripping yarns' for boys. The board was officially unveiled by Eric Axford and Michael Spilman, who as boys both knew Percy Westerman. The ceremony on Wednesday 23rd July was also attended by local dignitaries, friends and family, and the sponsors of the board, and followed by a reception at the Redcliffe Yacht Club.
Contact details:
John Scott, Development Manager, Wareham & District Development Trust
01929 554236 Mob: 07971 029940 E-mail: john@wddt.org.uk
Design of information panels by Debi Waller of Art Studio 36