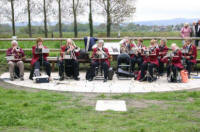 The idea of a Bandstand, or more formally a 'Community Performance Platform', arose when Mrs Ruth Mitchell approached WDDT and asked whether she could donate some money towards a project in memory of her late son Mark Northover, who was a well known figure in Wareham on his mobility scooter. We'd known for some time that the Town Band and others had encountered problems when playing at popular events on The Quay. If they played on The Quay itself then they took up a fair amount of space, but if they went across the river to the southern bank there was nowhere convenient to stand. We came up with idea of creating a suitable area on the southern bank.
There was lots of support from other people. The Priory Hotel, which owns the land, gave its enthusiastic support to the project. Andrews Plant Hire lent excavators and dumper trucks to move soil and materials, and Lovellís Quarry provided the Purbeck Stone paving at cost. Local council waste contractor SITA generously provided a substantial grant towards the cost of the work, through the SITA Trust's Enhancing Communities programme. (click here to learn more about this).
Volunteers did most of the hard work. We had a formal opening ceremony for both this area and the Meadow, on Saturday 6th May 2006. Mrs Mitchell did us the honour of cutting the ribbon.
Some people have pointed out that in heavy rain the area can become flooded, and they've asked why we didn't raise the paved area. This would also have made any performers more visible. It's a very good point. Unfortunately The Environment Agency (which controls the river bank) insisted that the paving be kept at the original ground level, so there was nothing we could do.
It's not just for the Town Band. Other voluntary/charity groups can use the area on request Ė thereís no fee, but WDDT will be operating a booking system to avoid clashes.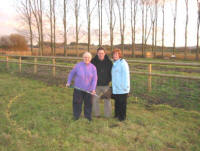 Marking out the Bandstand area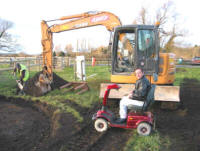 Trustee Colin supervises the work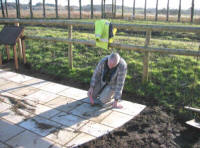 Paving the bandstand