---
AUTUMN NEWS 2018
It is now one year since the Tree of Life & Laughter Community Garden was officially declared open on 19th September 2017.
Since then, to add to the tree mural, flowers beds, Roman villa remains and furniture already installed, Purbeck Art Weeks have donated a beautiful sculpture and murals created by local school children and the Purbeck Day Centre, the Purbeck Rally have donated tables, benches and a bird table, the Rotary have donated gazebos, and local individuals and businesses have contributed other items and money to the overall maintenance costs. The Trust, Stoborough WI and Renaissance residents have planted, weeded and kept the garden in good condition.
Also during the first year the garden and exhibition space has been well used by the Library for their Summer Reading Challenge during August, a visit by seven classes from Stoborough School during July, Friends of the Library tea and cakes in July, and several group and individual visits. The Trust has also made use of the garden by inviting SEA LIFE Weymouth to demonstrate their rock pools twice, resulting in over five hundred children and adults attending. The Trust also held a 'Nearly New Book & Craft Fayre' which raised £170, and have since, in partnership with the Library, installed a 'Nearly New' book trolley which is raising further funds for the garden upkeep.
As regards the Bucknowle Roman villa threshold stones within the garden, they have been well visited and appreciated. The information board alongside and a web site and educational leaflet have since been completed. As a 'thank you' to the community, and as part of a National Lottery promotion, the Trust gave away a copy of their Wareham Walls Walk booklet to anyone who presented a lottery ticket or scratch card at the Discover Purbeck desk between 11-16 December 2017.
For the rest of the news please read our newsletter
---
News Update 4th April 2018
Wareham & District Development Trust bags £1,000 from Tesco's community grant scheme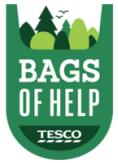 The Wareham & District Development Trust is delighted to announce it has bagged £1,000 from Tesco's Bags of Help community grant scheme.
Bags of Help is run in partnership with environmental charity Groundwork, and sees grants raised from the sale of carrier bags awarded to thousands of local community projects every year. Since launching in 2015, it's provided more than £48 million to over 13,000 local community projects.
Millions of shoppers have voted in Tesco stores up and down the country and it can now be revealed the Wareham & District Development Trust has been awarded £1,000.
Work will now begin on bringing the project, the improvement of Priory Community Meadow, to life.
The Meadow was created ten years ago by the Trust and its many helpers from neglected land on the south bank of the River Frome, opposite the Town Quay in Wareham. Over the years it has suffered from severe flooding and general wear and tear and is now in need of some tender loving care. Paths need resurfacing, bridges need strengthening, ditches need clearing, information boards need replacing, and lots of trees and bushes need cutting back.
'The Meadow has been an oasis of peace and tranquillity for many years, and has won several conservation awards, and the £1,000 awarded will go a long way to ensuring that the Meadow maintains its character for a further ten years', says John Scott, Development Manager for the Trust.
Alec Brown, Tesco's Head of Community, said:
"Bags of Help has been a fantastic success and we've been overwhelmed by the response from customers. It's such a special scheme because it's local people who decide how the money will be spent in their community. We can't wait to see the projects come to life."
Voting ran in stores throughout January and February with customers choosing which local project they would like to get the top award using a token given to them at the checkout.
Tesco customers get the chance to vote for three different groups each time they shop. Every other month, when votes are collected, three groups in each of Tesco's regions are awarded funding.
Groundwork's National Chief Executive, Graham Duxbury, said:
"Bags of Help continues to enable local communities up and down the UK to improve the local spaces and places that matter to them. The diversity of projects that are being funded shows that local communities have a passion to create something great in their area. We are pleased to be able to be a part of the journey and provide support and encouragement to help local communities thrive."
Funding is available to community groups and charities looking to fund local projects that bring benefits to communities. Anyone can nominate a project and organisations can apply online. To find out more visit www.tesco.com/bagsofhelp.
---
News Update 24th November 2017
..........................................................................
A BIG THANK YOU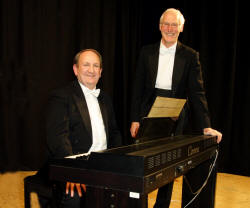 Thanks to Ball & Socket, Stoborough WI and the full-house that enjoyed their concert and cakes on Wednesday 22nd November we have raised over £400 to go towards the purchase of more tables, benches and a bird table for the Tree of Life & Laughter Community Garden
---
SOME OF OUR LATEST PROJECTS IN THE COMMUNITY